Rural Nursing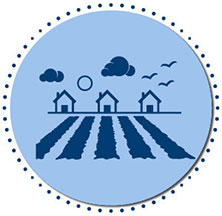 Rural Nursing
Sanford Health operates hospitals and clinics across more than 250,000 square miles, making it one of the largest integrated rural health systems in the United States. That geographical footprint stretches from some of the fastest-growing cities in the Upper Midwest to small towns that offer numerous practice opportunities for nurses who want to live and work in rural communities.
Nurses who practice in rural areas are "expert generalists" who deliver care in a variety of settings and across the lifespan. In rural areas, nurses are well known to their community and valued for their service and contributions to health and well-being. Rural nurses must hold a strong, broad base of clinical knowledge and skills to practice in multiple clinical areas, often simultaneously. Distance from a larger urban medical center, weather and other resource limitations shape the lives and professional practice of the rural nurse. Technology is often used to connect with specialty care to keep services local and to enhance outcomes.
Take a look below at our available opportunities within this category and join our Nursing team today. If you have questions about a position or would like to speak with an HR professional, fill out the form here.
Results, order, filter
Rural Nursing Jobs
Current Search Criteria
Sorted by
Relevance
Filter by
Job Function
More
Less
Filter by
Job Schedule
Filter by
Shift
Filter by
Nursing Category
More
Less
Filter by
State
More
Less
Filter by
City
More
Less
Filter by
Title
More
Less